2017/03/15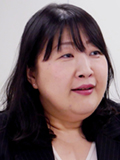 I really think Asian countries have become richer these days, be it China, South Korea or other courtiers. Therefore, students do not have the "struggling-student" image like in the past. Part-time jobs are obviously done for money, but nowadays, students give more importance to reasons such as "to make Japanese friends" and "to learn Japanese culture" in doing these part-time jobs.
In essence, being brought up in a wealthy life compared to the past has made people weaker in the face of troubles, so there is an increasing number of students who are not used to dealing with problems on their own. In order for students to be able to live in Japan and learn Japanese language, we cannot just teach the language but also must give support for everyday life. However, recently, good jobs have become much heavier than before. For example, in the case of apartment rental, there are more and more students who not only want us to introduce property, but also need help in moving and smaller daily cores.
ARC trys to devize plans so that we can give support like this to students in the most effective manner. Responsible teachers and staff inform their team and have daily meetings to establish their roles in supporting activities. There are both teachers who will not let even small details out of sight, but also there are teachers who are not too strict so students can come to them when in trouble. As we have teachers who are not too strict and not too gentle like this, we can instruct students in multifaceted ways.
Living in a foreign country will become an extremely good experience to help students become independent. By having difficult times as well as good times in a country you are not used to this will help make you stronger in unexpected situations. It will definitely become a positive aspect for your life.
I used to be a Japanese language teacher. However, I am now involved solely in supporting the lifestyles of ARC students. I want to encourage and help students grow and expand their life opportunities with their own hands everyday.