2017/08/04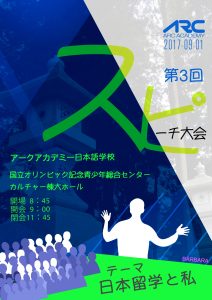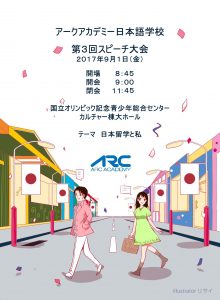 We would like to inform you of "ARC Academy Japanese Language School Speech Contest" which held on September 1st, 2017.
A speech will be made from each class representative of Shibuya (Iidabashi) School and Shinjuku School, as well as a presentation of learning achievements from each class.
We would like you to join us to see the Japanese learning achievements of our students of both Schools. Please see below for the details.
It would be an honor for you to come support us on this special day.
*Please make a reservation in advance.
・Date:Friday, September 1, 2017
     9:00 to 11:45 (*Doors Open at 8:45)
・Venue:Large Hall, Arts Building, National Olympics Memorial Youth Center
・Access:7 minute walk from Odakyu Line Sangubashi Station
     10 minute walk from Tokyo Metro Chiyoda Line Yoyogi Koen Station
・Content:Part 1 Speech Contest
     Part 2 Presentatoin of Learning Achievements
・Reservation:Please contact us to make a reservation;
    Shibuya School (Iidabashi):03-5804-5811
    Shinjuku School:03-5337-0166