2017/05/31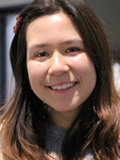 Maria Luisa Paredes Garcia
Spain/España
Tokyo School Study Abroad Course


【English】
Q. What made you start studying Japanese? And why did you choose ARC Academy?

I started studying Japanese because I was interested in anime and Japanese culture since high school, and wanted to know more about that great unknown country for me. I chose Arc Academy because the Japanese academy where I studied in Barcelona recommended this site.
Q. Is this your first time in Japan?

No, the first time I came with my parents on family trip, then I came to Japan to study for two months. So this was my third time here.
Q. Were you worried before coming to Japan?

The truth is that I did not have many worries since Japan is a very safe and well-ordered country so I did not feel much insecurity, what worried me most was that I did not know how to communicate or transmit what I wanted to do or how to do about various paperworks to live here.
Q. How long have you studied at ARC?

I have been studying in ARC for almost 1 year. I am going to graduate in March of this year 2017.
Q. Is there any lessons you particularly enjoyed?

The EJU and JLPT exam preparation classes have been really good and efficient, i think. The teachers are very attentive and are always willing to resolve any my queries. The class that I have liked so far is definitely one of the optional classes "Visit a Japanese elementary school". It really leaves me a good memory and it became a great experience.
Q. What do you spend your free time?

At the beginning, I studied Japanese after class because my level was still not good enough. After a couple of months, I found an arubaito (part-time job) and went to work some of the days every week and of course kept studying as well. Besides, sometimes I hang out with my friends or I just go to game centers or karaoke.
Q. What type of accommodation do you live in? How did you find it?

I live in a Share house. The academy where I studied in Barcelona recommended 3 pages of Share House websites and I chose the one that suited me the most. I book it from Spain.
Q. Do you think the cost of living in Japan is expensive?

The cost of living in Tokyo is expensive compared to other countries such as my country, but if you look at the average of Japanese salary, you can also understand that the standard of living is expensive because they also receive good salaries. You can also find cheap shops and bargains easily.
Q. Do you have any part-time jobs? If yes, how did you find it?

Yes, I have a part-time job. A friend of ARC recommended the job sites and helped me to go to the interview.
Q. Have you had any problems since you came to Japan?

One of the problems I had was about the contract of SIM card. I wanted to make a contract for the mobile phone, but I was still 19 years old at that time, so I could not apply for a SIM card without the consent of my parents or a legal guardian, so I had to wait for my birthday. When I became 20 years old, I could have my SIM card finally.
If you have any problems, ARC staff are always willing to help you, so you don't have to worry so much. They will always have a solution for you, like how to open a Bank account or how to register as a resident at the city hall. In addition, you can always ask your friends and classmates of ARC who have already had in the same situation. They would kindly tell you what to do.
Q. What will you do after I complete studying at ARC?

I will return to Barcelona to finish my university studies and plan to study a master course in Japan.
Q. What advice would you give to the people who are considering studying in Japan?

Please don't worry about the level of your present Japanese level. You will improve without a doubt at ARC with pleasure only if you have a clear purpose like you want to master Japanese or want to work in Japan. Please come and enjoy this experience! You might happen to meet not only good things but also negative things sometimes, but I'm sure you will not regret.
【Español】
Q. ¿Por que comenzaste a estudiar japonés?¿Por que escogiste ARC ACADEMY?

Empecé a estudiar japonés porque desde cuando estaba instituto tenia interés en el anime y en la cultura japonesa y quería saber mas sobre ese gran desconocido que era Japón para mi. Escogí Arc Academy porque mi academia de japonés en Barcelona me recomendó este sitio.
Q. ¿Es la primera vez que has venido a Japón?

No , la primera vez vine con mis padres en plan viaje familiar, después vine a Japón para estudiar 2 meses así que esta seria mi tercera vez aquí.
Q. ¿Tuviste alguna preocupación antes de venir a Japón?

La verdad es que no tuve muchas preocupaciones , japon es un país muy seguro y ordenado así que no sentí mucha inseguridad, lo que mas me preocupaba era que no supiera comunicar o transmitir lo que quería o a la hora de hacer tramites varios para vivir aquí que no supiera que hacer o si los iba a entender.
Q. ¿Hasta ahora cuánto tiempo has estudiado en ARC ACADEMY? ¿Cuanto tiempo tienes planeado estudiar en ARC?

Hasta ahora he estado estudiando en ARC prácticamente 1 año. Pues en Marzo de este año 2017 me gradúo.
Q. ¿Qué clase le ha dejado una buena impresión? ¿Que clase le ha gustado más?

Las clases de preparación para el examen del EJU y JLPT han sido realmente buenas y eficientes desde mi punto de vista. Los profesores son muy atentos y siempre están dispuestos a resolver cualquier duda.
La clase que mas me ha gustado hasta ahora a sido una de las clases optativas que escogí que trataba de ir a visitar una escuela primaria japonesa. Realmente te deja un buen recuerdo y se convierte en una gran experiencia.
Q. ¿Que se dedica a hacer cuando las clases acaban?

Al principio después de clase estudiaba japones porque mi nivel aun no era lo bastante bueno , poco a poco encontré un arubaito (trabajo a tiempo parcial) y entonces algunos días después del cole trabaja y otros estudiaba. Por supuesto también había días que me iba con mis amigos o que simplemente iba al game center o karaoke.
Q. ¿En que tipo de alojamiento vive? ¿Cómo encontró el alojamiento?

Vivo en una Share house (casa compartida). Mi academia de Barcelona me recomendó 3 paginas webs de Share house y yo elegí la que mas apropiada a mi gusto me pareció . Por lo tanto lo reserve desde España.
Q. ¿Cree que el coste de vida en Japón es caro?

El coste de vida en Tokyo es caro si lo comparamos con otros países como por ejemplo España, pero si nos fijamos en el sueldo medio japonés también se puede entender que el nivel de vida sea caro pues también reciben un buen sueldo. Aunque también se pueden encontrar sitios baratos y gangas como en cualquier sitio.
Q. ¿Tiene algún Arubaito ( trabajo a tiempo parcial) ? ¿Cómo lo encontró?

Si tengo un Arubaito. Un amigo de ARC me recomendó el sitio y me ayudo para conseguir la entrevista.
Q. ¿Qué problema/s ha tenido desde que vino a Japón?

Uno de los problemas que he tenido ha sido el hecho de hacerme un contrato para el móvil ya que como tenia 19 años no podía solicitar una tarjeta SIM sin el consentimiento de mis padres o de algún tutor legal, así que tuve que esperar a cumplir 20 años para que pudiera tener mi tarjeta SIM.
Después de eso si tienes algún problema el staff de ARC siempre esta dispuesto a ayudarte por lo que no te tienes que preocupar siempre tendrán una solución para ti. Ya sea como abrir una cuenta en el banco o como regístrate en el ayuntamiento . Además siempre puedes pedir consejo a tus amigos y compañeros de la academia que ya han estado en la misma situación y que por lo tanto saben que hacer.
Q. ¿Qué hará después de que acabe de estudiar en ARC ACADEMY?

Volveré a Barcelona para terminar mis estudios universitarios en allí y tengo pensado estudiar el master o doctorado en Japón.
Q. ¿Qué consejo le daría a las personas que de aquí en adelante quieren estudiar en Japón ?

Que no se preocupen del nivel de japones que tengan porque aquí lo van a mejorar sin duda alguna y que ya sea solo por placer o porque quieren estudiar o trabajar en Japón que porfavor venga y disfrute de esta experiencia que desde mi punto de vista con sus cosas buenas y cosas malas estoy seguro que no se arrepentirá.