2017/06/10
Sports festival (Undokai) was held in National Olympics Memorial Youth Center on Monday, May 29th 2017, which the all students of Iidabashi school participated in.
There were two parts for Morning classes and Afternoon classes, and four-color (blue, yellow, green and pink) teams had the matches to get a champion.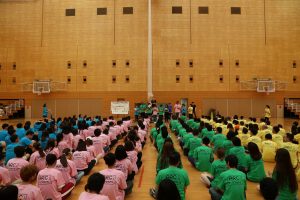 The athlete's oath of fair play and Radio exercise were made before getting started.
The events were passing the ball, three-legged race, tag of war and relay race. Allstudents got especially excited at the last two events.
Blue team won in the morning, and Pink team did in the afternoon.
The team colored T-shirts were design by two ARC students, and the photos were also taken by our volunteer students.
All the students and teachers got refreshed with participating the matches and cheering their mates as a team beyond the gap of daily classes.