2017/03/15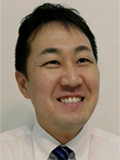 It seems that the name of ARC Academy comes from the word "arch" (bridge). I am really proud of doing a job that allows me to be involved into the education of the people that one day might become "connecting bridges" with Japan. Also, I think it is quite unusual to be able to meet and talk with so many foreigners all while remaining in Japan.
My job consists mainly of recruitment activities such handling inquiries and applications from prospect students, and assisting students already enrolled. When I introduce the school, I ask about the reasons and targets of studying in Japan, and then provide information about the school in the simplest way possible. If I feel that the applicant's learning plan is unrealistic, I point out the difficulties and ask them to review it, or if it is clear the applicant would have problems because of the financial situation, I sometimes have to reject the application. This is because, if the applicant, once in Japan, was to regret his or her choice and decide to go back to his or her country prematurely, it would be a great waste of money and time. What matters the most is the applicant's will. I want students with a strong motivation to attain their goals to come to Japan only after the proper preparation.
In recent years, the number of students coming to Japan has kept growing, but I would not say Japan has become an easy environment for them yet. From opening a bank account to making a mobile phone contract or the procedure to rent an apartment, everything is complicated. There are many aspects, such as cultural gaps and linguistic differences that often cannot be solved by the student alone. Almost no student has their parents or relatives close, and they rely a lot on school staff. From this point of view, ours is a very important job also for everyday life support. We work every day to understand the needs of our students and their changes, in order to widen the extent of the support we can provide.
Maybe it is also a matter of geography, but at Osaka school, students talk lightheartedly with teachers, staff members and classmates. I believe students can get to overcome most of their difficulties if they are in an environment where they can encourage each other and know there are people ready to provide help and support.
We, the staff, would like to keep working hard to improve communication with students and build a comfortable atmosphere. We believe in you and your dreams.