2017/05/31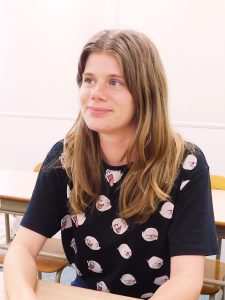 Elin
Sweden
Osaka School


I first visited Japan 4 years ago and immediately fell in love with the country and the language. That's why I 3 years later (and after one more trip to Japan) decided to go back for an extended time and study Japanese. I picked Osaka because it is my favorite city in Japan; it has great foods, friendly people and an amazing atmosphere. Osaka is very proud of its Okonomiyaki, a dish that is sometimes compared to western pizza or pancake, and I've eaten too much of it since I came here; it's soooo tasty.


They say that people here in Osaka are more relaxed than in other Japanese cities and I believe that it is indeed so. It's easy to get in contact here; people are very friendly and the city has a great nightlife. Go out for a pub crawl and you will notice yourself. Osaka feels more personal and cozy than Tokyo, but it is still a very large city with a lot of things to do and experience.


I chose ARC Academy because of its focus on conversation. I wanted to focus more on oral communication, since it's my biggest challenge, and less on writing/reading. That doesn't mean that we don't do writing/reading, we practice kanji everyday and have reading exercises once a week, but the lessons are mainly focused on conversation and you get to talk alot in Japanese at every lesson. We learn something new everyday! Of course all the teachers only speak Japanese during the lessons, but it's fine even if you don't know any Japanese at all from the start; you will pick it up fast and the teachers are very good at explaining with images and gestures! The teachers are very kind and helpful!


One more thing that I thought was great with ARC is that they post job offers on a board at the reception and I could find a part-time job easily. That way you can easily and quickly get into the Japanese daily life.

I think the most fun part of Japanese is to learn the Kanji. It sounds weird, most westerners hate the kanji-part because they are complex and there are over 2000 characters to memorize, but once you begin to be able to read signs and texts (and menus!) around you in Japan it's so fun and rewarding, it's really really useful. I learned some kanji before I came here and it has helped me so much (but if you don't study beforehand it's also fine, most people don't and they manage just fine as well!).


I live in a shared house here in Osaka and I can really recommend it. In the smaller shared houses (with around 15 rooms) you really get close to the people and learn so much. In my shared house there are a lot of Japanese or people fluent in Japanese so I get to practice speaking and listening everyday.


So if you love food, to meet awesome people and are interested in Japan – I can definitely recommend studying in Osaka!